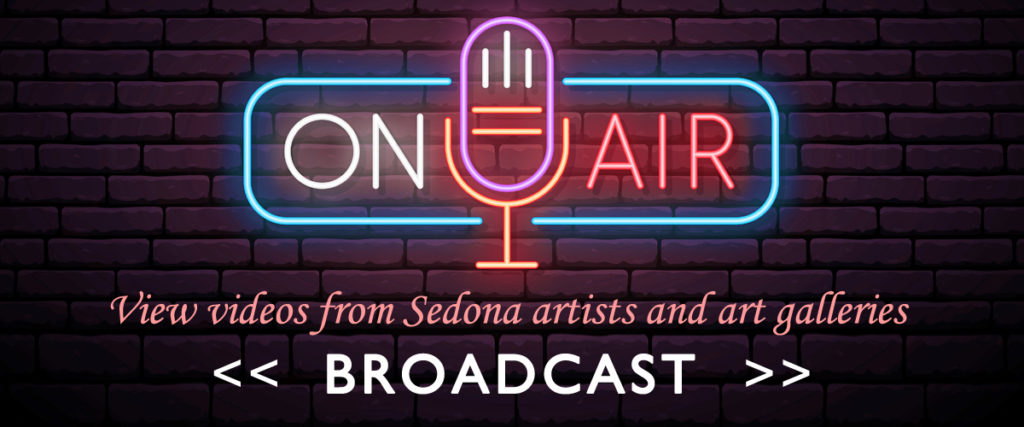 ---
Exposures International Gallery of Fine Art
Exposures International
Gallery of Fine Art
561 State Route 179, Sedona
www.exposuresfineart.com
Exposures International Gallery has an impressive 20,000 square feet of art display that includes every style from classical to contemporary. Visitors enjoy a diversity of art including amazing bronze and stone sculptures, original oil and acrylic paintings, fine art jewelry, and an array of glass art. Professional consultants provide a personal touch to the task of viewing and choosing artwork for the home or office, whether indoors or outdoors, private or commercial, small maquettes or monuments. Owners and Creators, Marty and Diane Herman, are passionate about creating a fine art experience every person can enjoy when visiting the gallery.
---
Greg Lawson Galleries
Greg Lawson Galleries
2679 W. State Route 89A, Sedona
276 N. State Route 89A, Sedona
www.greglawsongalleries.com
www.greglawson.com
Greg Lawson Galleries feature images in good taste from the seven continents of Earth, plus landscapes, wildlife, and urban areas, making it one of Sedona's largest exclusive art galleries. Greg Lawson's work is appreciated for bringing the viewer alongside him in the field using techniques employed for 50 years. Housed in a unique setting in West Sedona the Greg Lawson all-format collection can be enjoyed and selected in a quiet and peaceful atmosphere just three miles west of central Sedona and at GregLawson.com.
---
Kachina House
Kachina House
2920 Hopi Drive, Sedona
www.kachinahouse.com
Kachina House in Sedona is the largest distributor of Native American art and artifacts in Arizona. The 5,000 square foot showroom/warehouse in West Sedona, nestled among the famous red rocks, offers pottery including Horsehair, Acoma, Hopi, Navajo, Santa Clara, and Zuni; artifacts; jewelry; Hopi Traditional "Old Style" Katsinas and Hopi Full-Figure Contemporary Katsinas; Navajo Kachinas; Hopi Baskets; sand paintings; original art; prints; and much more. Authentic native products made in the Southwest are signed and/or come with Certificates of Authenticity. Kachina House now carrys gourd art by Robert Rivera as well as Mata Ortiz handbuilt pottery from Mexico. Kachina House is your source for arts and crafts from the greater southwest.
---
Rick Cyge
Rick Cyge
Acoustic Guitarist
www.rickcyge.com
"Open Fields," is the first single release of a new collaboration between Fingerstyle Guitarist Rick Cyge of Sedona and gifted Celtic Guitarist Stephen Wake, a native of Scotland now residing in Costa Rica. This fingerstyle guitar duet, an intricate interplay between two acoustic guitars written by Wake, is their first joint project from across the miles!
---
Sedona International Film Festival
Sedona International Film Festival
Mary D. Fisher Theatre
2030 W. State Route 89A, Sedona
www.sedonafilmfestival.com
The Mary D. Fisher Theatre, Sedona's arthouse theater venue and "cultural heart of Sedona" offers daily programming year-long and presents at least two new independent films each week along with several special alternative content events. These include the Met Live Opera productions; Ballet in Cinema (with big-screen, high-definition productions from the Bolshoi Ballet, Royal Ballet, the Lincoln Center and many others); the National Theatre of London; West End and Broadway Theatre productions; Shakespeare productions from the Globe Theatre, Royal Shakespeare Company and Stratford Festival; Art & Architecture in Cinema Series; simulcast events; symphony simulcasts; live theater; and musical productions.
With the theatre temporarily closed, theatre organizers are excited to collaborate with some terrific distributors to bring a bit of the Mary D. Fisher Theatre experience to your home. They have partnered to bring you several new indie films still in their theatrical release window and now available for you to stream at home from the best seat in your house! Click here to learn more.
---
Shondra
Shondra
Singer Songwriter
www.shondramusic.com
Shondra in Concert LIVE on Facebook April 28th 2020.
Due to COVID 19, ALL Shows/events have been canceled. Thank you in advance for any & all Tips. Shondra's Tip Jar – https://paypal.me/ShondraThomasJ?locale.x=en_USShondraMusic.com All Rights Reserved ©2020
---
Touchstone Gallery
Touchstone Gallery
Sinagua Plaza
320 N. SR 89A, Suite 14, Sedona
www.touchstonegalleries.com
Mother Nature's finest awaits you within the doors of Touchstone Gallery, the heart of Sedona's natural art scene. Step inside our premier Uptown Sedona gallery to discover a world of museum quality prehistoric fossils and magnificent mineral masterpieces. You'll unearth a hidden treasure trove of stunning interior accents, vibrant crystals, local minerals and Arizona's state fossil; our extraordinary "rainbow" petrified wood. Come and explore an astounding selection of contemporary gemstone jewelry, meteorite timepieces and rare "out of this world" meteorite specimens. Fantastic custom framed, hand-select fish and plant fossils and distinctive home décor pieces fashioned locally of glass, wood, metal and stone. From superb small gifts to rare collector's items, Touchstone Gallery is sure to appeal to everyone who appreciates the timeless beauty of nature's art etched in stone.
---
Wayne B. Light Gallery
Wayne B. Light
Fine Jewelry & Art Gallery
40 Soldier Pass Road, Suites 1 & 2, Sedona
www.wayneblight.com
Wayne B. Light is a second generation jeweler having worked in his parent's jewelry store as a young boy. After owning his own store in Illinois for ten years, at the age of 33, he moved from Illinois to Sedona, AZ in 1988. He has been a cornerstone of the jewelry world in Sedona since then, known as Sedona's favorite jeweler. Wayne has always had an affinity for the beauty of fine gemstones, and soon began designing after moving to Sedona, where he is continually inspired by the beauty that surrounds him.