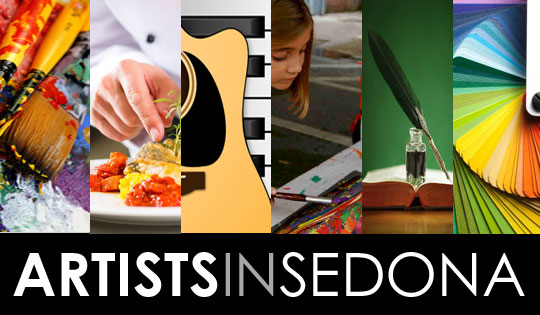 Find out more about local working artists! Sedona ArtSource provides a free online listing to Sedona working artists plus a membership opportunity that includes voting rights in the annual ArtSource Awards for Sedona Creative Achievement.
Are you an artist living, working or represented in Sedona? Contact us to find out how to become a member!
Categories:


Culinary Arts     

 Design Arts     

 Education     

 Literary Arts     

 Performing Arts     

 Visual Arts
Search suggestions: You can search by any word or phrase you like. If you'd like to look at just one of the above categories, simply type the category name into the search filed or, better yet, highlight, copy and paste the category name into the search box. To see the whole list again, simply hit the "x" at the right end of the search box.
To submit your free Artist Directory listing to be added to the "A List" below, click here and follow the instructions.
The A List: Artists in Sedona
CATEGORY
SAS MEMBER
LAST NAME
FIRST NAME
DESCRIPTION
Esteban
Musician, GuitaristPerforming Arts
Acosta
Tommy
Guitarist, Singer. SongwriterPerforming Arts
Adams
Lou
Origami ArtistVisual Arts
Anderhold
Jennifer
Interior Designer, Furniture MakerDesign Arts
Bearcloud
PainterVisual Arts
Beck
Sandra
PainterVisual Arts
Visit
Page
Becker
Pamela
Designer, Graphic Illustrator, PainterVisual ArtsDesign Arts
Been
Joshua
Mixed Media ArtistVisual Arts
Belvin
Elaine
PhotographerVisual Arts
Belvin
Bill
PhotographerVisual Arts
Bennett
Karyl
PainterVisual Arts
Best
Joey
Design, MediaDesign ArtsVisual Arts
Bongiorno
Joe
Musician, PianistPerforming Arts
Bos
Marilyn
Visual ArtistVisual Arts
Bower
Mike
ArchitectDesign Arts
Brand
Stephanie
PhotographerVisual Arts
Brandt
Eric
ArchitectDesign Arts
Bresnan
Dan
Musician, Guitarist, Songwriter, LuthierPerforming Arts
Burr
Christin
Jewelery ArtistVisual Arts

Carr
Howard
PainterVisual Arts
Carr
Betty
Mixed Media ArtistVisual Arts
Carsula
Carolyn
Mixed Media ArtistVisual Arts

Carter
Scott
Furniture Designer and ManufacturerVisual ArtsDesign Arts

Celestin
MuralistVisual Arts
Coates
Bob
PhotographerVisual Arts

Comello
Al
Web Designer, PhotographerVisual ArtsDesign Arts



Cook
James
PainterVisual Arts


Cramer
Bill
PainterVisual Arts
Visit
Page
Cyge
Rick
Musician, Fingerstyle Guitarist, Composer, Guitar Instructor, Web DesignerPerforming ArtsArts Education
Dahl
Lisa
Executive ChefCulinary Arts
Danielle
Lisa
Mixed MediaVisual Arts
Davis
Sue
Mixed Media ArtistVisual Arts
Decker
Charles
PainterVisual Arts
DeSerio
Adam
PhotographerVisual Arts
DeSerio
Lou
PhotographerVisual Arts
Dillingham
Elaine
Mixed Media ArtistVisual Arts
Douglas
Steve
Musician, Guitarist, BassistPerforming Arts
Dove
Mary
Mixed Media ArtistVisual Arts

Duly
Jewelry Artist, Potter, GlazerVisual Arts
Dunham
Bandhu
Glass ArtistVisual Arts

Eaton
William
Musician, Guitarist, Composer, LuthierPerforming Arts
Elkins
Rita Elaine
Mixed Media ArtistVisual Arts

Fazio
Vince
SculptorVisual Arts

Fisher
Mary
Visual ArtistVisual Arts

Ford
Jordon
Torch and Glass ArtistVisual Arts

Frankel
Gaetano
Musician, Flamenco GuitaristPerforming Arts
Frasca
Connie
Wood sculptor, Mixed Media ArtistVisual Arts

Gabaldo
Virginia
Glass ArtistVisual Arts

Gabrielle
Kristina
Graphic Designer, WriterDesign ArtsLiterary Arts
Gandolfo
Carol
PhotographerVisual Arts

Gandolfo
Richard
PainterVisual Arts

Gassner
Peter
PhotographerVisual Arts

Gazda
Cathy
Mixed Media ArtistVisual Arts

Grant
Michael
Jewelry Designer and Creator
Griffin
Greg
PhotographerVisual Arts

Grussing
Ted
PhotographerVisual Arts

Hagstrom
Jim
PainterVisual Arts
Hakola
Akasha H.
Mixed Media Artist, Painter, Sculptor, Jewelry and Fiber Art Designer and InstructorVisual ArtsDesign ArtsArts Education
Halliday
Karen
Wood Sculptor, Mixed Media ArtistVisual Arts

Harrington
Judy
Mixed Media ArtistVisual Arts

Hawkins
Beth Kingsley
PhotographerVisual Arts

Hemingway
Lenore
Mosaic Glass ArtistVisual ArtsDesign Arts
Herman
Marty
Gallery Owner, Photographer
Visual Arts
Visit
Page
Hiscox
Joanne
Art Furniture/Mirror Designer, Custom Wall Artist, Fused Glass ArtistDesign ArtsVisual Arts
Visit
Page
Hiscox
Art
Custom Art Furniture/Mirror Designer, Mixed Media Wall ArtistVisual Arts
Hook
Danielle
Torch and Glass ArtistVisual Arts

Illenberger
Ralf
Musician, Fingerstyle Guitarist, ComposerPerforming Arts
Israel
Lee
VideographerVisual Arts

Jacobson
Marc
Graphic DesignerDesign Arts


Jaramillo
Jose
Wood Carver, Furniture DesignerVisual Arts
Jepperson
Shondra
Musician, Entertainer, Singer, Actor, SongwriterPerforming Arts
Jepperson
Tom
Musician, Entertainer, Singer, ActorPerforming Arts
Johnson
Michael Chesley
Visual Arts

Johnson
Carolyn
Watercolor Abstraction, ArtistVisual Arts

Jonason
David
PainterVisual Arts
Kadam
Madak
Interior DesignerDesign Arts
Visit
Page
Kahn
Carol
Jewelry Designer, Writer, PhotographerVisual ArtsDesign ArtsLiterary Arts

Keeber
David
Furniture MakerDesign Arts
Kendzia
Vibhas
Musician, Saxophonist, Flautist, Music InstructorArts EducationPerforming Arts
Khandro
Sherab "Shey"
Visual ArtistVisual Arts

Ki
Patrick
Musician, Guitarist, ComposerPerforming Arts
Kirsten-Honshin
Nicholas
Painter, PoetVisual ArtsLiterary Arts

Kliewer
Susan
SculptorVisual Arts
Klymenko
Kelli
Photographer, Artist, Writer, InstructorVisual ArtsPerforming ArtsLiterary ArtsArts Education
Knowles
Wayne
PainterVisual Arts

Kori
Kim
SculptorVisual Arts

Lande
Helen
PainterVisual Arts

Landon
Louis
Musician, PianistPerforming Arts
Lattanzi
Nancy
Graphic Designer, Arts CoordinatorDesign Arts
Visit
Page
Lawson
Greg
Image Based Visual Artist, Author, SpeakerVisual ArtsLiterary ArtsPerforming Arts

Lewin
David
Glass ArtistVisual Arts

Licher
Max
ArchitectDesign Arts
Light
Wayne B
Jewelry Designer and CreatorDesign Arts
Lindahl
Larry
PhotographerVisual Arts

Littenberg
Austin
Torch and Glass ArtistVisual ArtsDesign Arts

Lopez
Nelly
PainterVisual Arts
Lovelett
Judy
PhotographerVisual Arts



Malandra
Michael
PhotographerVisual Arts
Mallek
Barbara
Mixed Media ArtistVisual Arts

Margaret
Mary
PotterVisual Arts

Martin
Susannah
Musician, Singer, Vocal InstructorArts EducationPerforming Arts
Matus
Bob
Wood Sculptor, PhotographerVisual Arts

Mazzella
Anthony
Musician, Guitarist, ComposerPerforming Arts
McCarthy
Gene
Watercolor ArtistVisual Arts

McClellan
Mike
PhotographerVisual Arts

McDermott
Shane
PhotographerVisual Arts

McMeekin
Stan
Photographer, Photography DirectorVisual Arts

McMillen
Erin
Torch and Glass ArtistVisual Arts

Medow
Mike
WoodcrafterVisual Arts

Miller
Robin
Musician, Guitarist, Keyboardist, ComposerPerforming Arts
Miller
Eric
Musician, Guitarist, ComposerPerforming Arts
Moceri
Gerardo
Executive ChefCulinary Arts
Mock-Jones
Janice
Mixed Media ArtistVisual Arts

Molans
Heather
Mixed Media ArtistVisual Arts

Molnar
George
PainterVisual Arts
Morgan
Elaine
PhotographerVisual Arts

Morgan
Duane
PhotographerVisual Arts

Muir
James N.
Bronze SculptorVisual Arts

Navarro
Chris
SculptorVisual Arts

Visit
Page
Palmer
Christie
PainterVisual Arts

Pape
Jim
Creations From Natural ElementsVisual Arts

Perry
Carole
Glass ArtistVisual Arts

Visit Page
Peterson
Jim
PhotographerVisual Arts

Polinard
Patti
Writer, Visual ArtistLiterary Arts
Rainbow Lady
Pilisa
Glass ArtistVisual Arts

Ratner
Mary
PhotographerVisual Arts

Reed
Susie
PhotographerVisual Arts



Reiger
Dale
Glass ArtistVisual Arts
Reinhart
Bryan
FilmmakerVisual Arts
Rohde
Komala
Jewelry ArtistVisual Arts


Romero
Carla
Mixed Media ArtistVisual Arts
Rothrock
Gloria
PainterVisual Arts
Rowe
Ken
SculptorVisual Arts

Ruehs
Dawn
FilmmakerVisual Arts

Ruehs
Richard
FilmmakerVisual Arts

Ruhlman
Scotti
Mixed Media ArtistVisual Arts


Sather
Mary Margaret
PotterVisual Arts

Saxton
Patricia
Author, Visual ArtistVisual ArtsLiterary Arts

Scarpelli
Glenn
TV Producer, ActorPerforming Arts
Seymour
Chris
Musician, Singer/GuitaristPerforming Arts
Sheppherd
Clark
PainterVisual Arts

Short
Mark
Creative DirectorDesign Arts
Silvey
Shari
PainterVisual Arts

Sitts
Jan
Mixed Media Artist, Arts EducatorVisual ArtsArts Education

Soderberg
John
Sculptor, Art TeacherVisual ArtsArts Education

Stocks
Gregory
PainterVisual Arts
Stulberg
Scott
PhotographerVisual Arts

Tamiazzo
Rose
Jewelry DesignerDesign Arts
Tobey
Joshua
SculptorVisual Arts

Visit
Page
Trombetta
Lynn
Musician, Flautist, Writer, Author, Illustrator, Visual ArtistVisual ArtsLiterary ArtsPerforming Arts



Upshaw
Lucias
Painter, SculptorVisual Arts
von Briesen
Derrick
PhotographerVisual Arts

Welles
Orson
Painter, Sketch ArtistVisual Arts

Welles
Beatrice
Handmade Accessory CreatorVisual Arts

Wolf
Liz
SculptorVisual Arts

Wolfe
Jiseph
AuthorLiterary Arts